It's always a great day to go fishing

Port Aransas Boatmen Incorporated is a non-profit organization, made up of charter boat owners and operators dedicated to providing services to the community of Port Aransas, Texas, in the form of scholarships and youth related activities.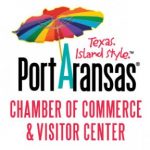 Whether planning a vacation, looking for a great place to hold an event, or thinking of a business venture on our island, the Port Aransas Chamber of Commerce is your one-stop shop for all the information you need. With over 5 million visitors a year and 4,000 local citizens, we are a thriving coastal community with great opportunities.